Bag in Box Containers
Containers for the storage and distribution of liquid products such as chemicals, reagents, buffer solutions, cooking oils etc.
The main advantages of the system over conventional glass bottles, metal canisters and plastic jerry cans are as follows:
Low storage volume when empty
Low weight/volume ratio
High return of storage space when filled
Total emptying without ingress of air(oxygen)
Protection from light
Wide choice of dispensing methods
UN approved packaging
Outer packaging can be easily print customised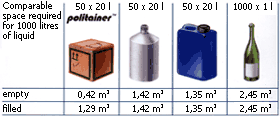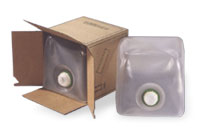 Available in 3 ranges - Standard, Barrier and Pharma. Each of these ranges is available in 1 litre to 30 litre sizes. In addition, we also offer some special and custom made designs.
Bag in Box containers manufactured by Polimoon GmbH